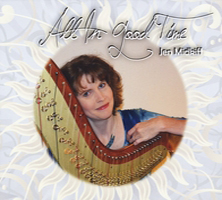 Jen Midkiff has been performing with ensembles professionally for most of her life, but in 2012 she took a step in a new direction and released her first solo harp and vocal CD, "All In Good Time". With consistent 5-star reviews from its listeners, this mix of traditional tunes and original melodies will open your eyes to this talented arranger and composer! Listen to previews or buy the CD on
CD Baby
.
1. Inis Siar/Slane/O Waly Waly Medley
2. Long Time Comin'
(feat. Amy McNally & Debbie Gates)
3. All the Pretty Little Horses
4. Eriskay Love Lilt/Eleanor Plunkett
(feat. Amy McNally)
5. Forestwalk
6. Song Without Words
(feat. Alberta Lathan)
7. Over the Hills and Far Away
(feat. Yoonhae Kim Swanson)
8. Hopscotch
9. Phoenix
10. Summer Storm
11. Not an Open Book
(feat. Amy McNally & Debbie Gates)
12. Separation of Soul from the Body
13. The Lark in Clear Air / Bridget Cruise
14. Grandma's Prayer / Jerusalem the Golden
(feat. Maddie Midkiff & Katie Midkiff)
15. Mantra
(feat. Vicki Waterman)
"Jen is an accomplished harpist with a delightful soprano voice. Her compositions are moving and relaxing. This CD is well worth your time and money."
"Jen has a little something for everyone in this album. Mostly lovely harp melodies, with some vocals; and backing from other very talented musicians. This CD was worth every penny, and then some!"
"Jen's music is captivating. Her original compositions are thought-provoking and show empathy. Her arrangements of some classic tunes create new ways to hear familiar music. Vocal bliss and technically pleasing instrumentals. Beautiful."
"Although I enjoyed the vocals - Jen has a beautiful voice - the harp melodies are what make this a truly exceptional album. Graceful, soaring, tender - they just float me away! I liked it so much I have purchased extra copies as gifts for some lucky friends. Highly recommended!"